Lighted Haunted House Canvas
Hi there! So, once I'm in Halloween mode decorating mode, I can't just pop back out of it. After last week's Halloween tablescape it's safe to say that I'm firmly in Halloween decorating mode,  so, today I'm here to share a fun little canvas Lighted Haunted House! I've been coveting those fun Marquee style art and thought it would be such fun to have a spooky mansion all lit up against an eerie sunset… I hope you'll agree!


I hope you had a fabulous weekend and survived the Monday after. We had a lovely time visiting with family and enjoying an oh-so-fancy pizza party. Sometimes you've just got to eat out of a box – Sunday was that day for us. If the kids had had their way they'd have been eating their pizza round that Halloween table but I wasn't quite ready to share it yet.  I'm hoping I can keep it around until our annual party, but I'm not sure it's going to last that long.
To add to the fun, the canvas project I'm sharing today is part of a new challenge that I'm participating in – the Create with Me challenge, hosted by Little Bits of Home and Love Create Celebrate.
Create with Me is a unique challenge where YOU, our favorite readers of all time, have a vote in what product we use to create something each month. As well, you can get in on the fun, too, by making your version of the item with the most votes and posting to Instagram tagging us at #CreatewithMeProjects over the next few weeks! How fun is that?! I can't wait to be a part of this every month! Make sure to place YOUR vote for next month before you go – we'll announce the winning vote next week – and take a look towards the bottom to see what my talented blogging friends came up with for their canvas.
Now, onto the project! For this project I used the following:
1 – 10×10 stretched canvas
X-Acto knife
LED light string – mine was battery operated
Acrylic craft paints – red, orange yellow and black
Paint brush
Tape – to attach the LED light string
A Haunted House stencil – mine was a foam cut-out from a previous Halloween party craft
I'm not much of a painter. I can paint stencils and faux finishes on walls extremely well, but for some reason, painting pictures is not a strength for me. This makes me a little sad because I'd LOVE to be good at it. Even at that, this wasn't all that difficult to pull off – even for a less than stellar painter.
In an effort at full disclosure, I have to tell you that I painted my sunset twice, which is why I have black streaks throughout the sunset. This was a happy accident! The nice thing about canvas is that you can paint over it if you aren't happy with your painting. The not so nice thing is this doesn't work if the paint is still wet. Ahem.
So, enough chatting, let's get to it. Here is what I did.
First, I traced my haunted house out onto the canvas using a pencil. I added the horizon freehand – my stencil didn't include one and I wanted to put my eery little tree on the hill beside the house.

Using the knife, I carefully cut the windows out by slicing through the canvas, ensuring to cut off any stray strings.

Then, I painted. I started with red along the bottom and went slightly over the pencil line of the house and ground.
About half-way up I switched to orange, using the brush to blend down into the red and adding black to give the impression of a darkening sky.

I continued with the orange until right near the top, where I changed to yellow, blending down towards the orange and across. I let the sunset dry.
Next, using a small brush, I outlined the house, windows and door, and the horizon in black. Using a larger brush, I filled in the house and hill background with black. Again, I let it dry.

To finish the painting, I added the moon in yellow, apply the paint in a circular motion and not entirely covering to give it a bit of dimension, then added the little tree free-hand and one little bat. There might have been more bats, but I discovered painting teeny bats freehand is a wee bit more challenging than I thought. One bat is just perfect in my book!

Once the paint was dry, I turned the canvas over and attached the light string. I used painters tape (ha!) because it was readily available – it just happened to be in the drawer closest to me – and because I haven't any intention of permanently attaching a light string. If you are attaching the lights more permanently I would use a canvas tape. Or, you can cheese out like I did and it will look just as lovely and no one will know that you used painters tape unless you have a blog and you tell everyone.. wink, wink.


The lights had a thin wire string and were easy to work with because I could bend them in the direction I wanted them to go. I picked them up in the Target Dollar Spot for $3.  I turned the wires in and around so that the bulbs rested in the windows, taping the wire as I went. Finally, I taped the battery box to the bottom of canvas – fancy stuff, I tell you.
All in all, despite my painting abilities, this project was a ton of fun! Thanks for stopping by! But wait, before you go, be sure to check out the other entries for Create with Me – Canvas!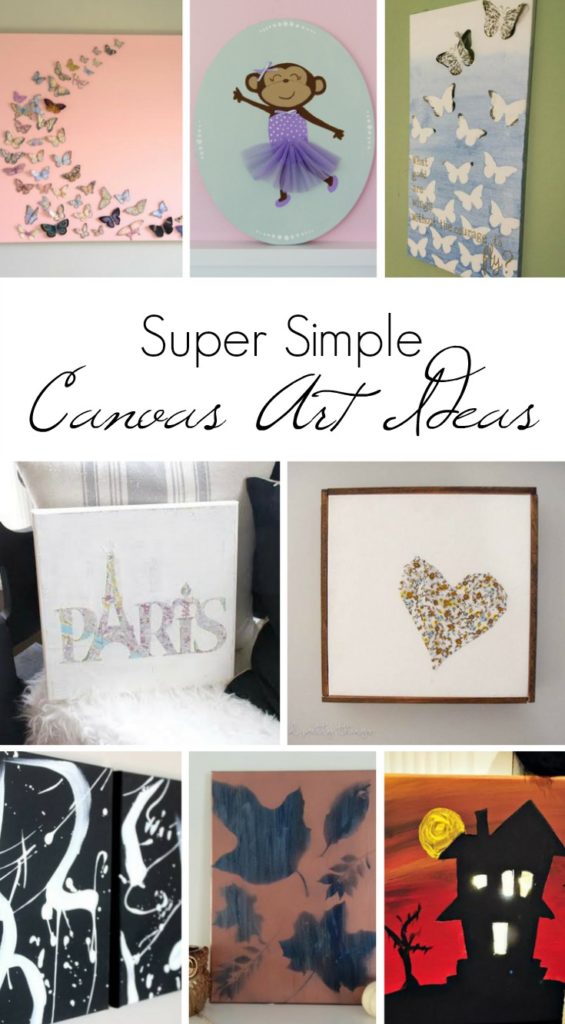 Did I mention we NEED you? Take a second to vote! What would you like to see us use in a DIY project this month? We will share the winning item next week, and you have three weeks to "Create with Me!"