Land of Nod Knock-Off – Ahoy There Mirrors Copy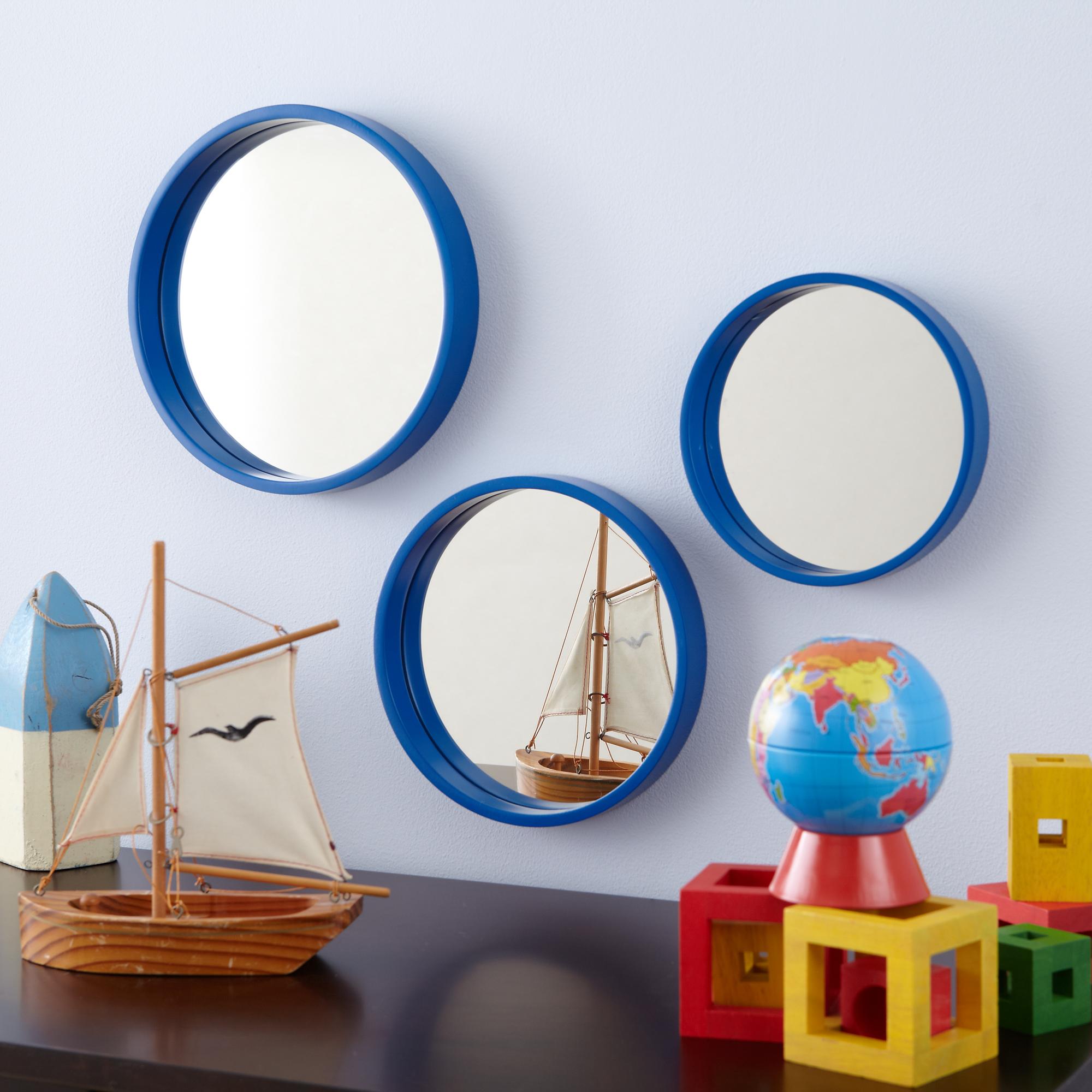 I do love their products – they are so unique and fun and these mirrors in particular were a fun find for Ayden's room. With the striped wall we just added, he has a bit of a nautical theme going on that I could work up a bit, while staying in line with the "All About Ayden" theme we were going for. I also wanted to tie in the industrial look we've been working with lately with his
dresser redo
, so I decided to add a bit of silver to match the dresser hardware.
I had created this sunburst mirror a while back, and I figured the concept was the same – I took a stab at making them myself.. so glad I did!
For this project I used:
3 inner embroidery hoops – 12″, 10″ and 8″
3 craft mirrors – 12″, 10″ and 8″
Craft glue – I used Aleene's
Spray paint in your choice of colors
Rub'n'Buff Silver Leaf
Command Damage Free Picture and Frame Hangers
What I did:
I removed the inner hoop from all three hoops and put the outer hoops aside for another day. I would not be using them.
I then spray painted all three inner hoops until thoroughly covered – this took two coats of paint, and I used a high gloss blue from Krylon. Once the paint was dry, I
sloppily
carefully applied my rub'n'buff to both what would be the bottom edge (the edge applied to the mirror) and the inner edge.
I touched up the blue edges where necessary – the rub'n'buff smudged in a few spots from handling-  by spraying the paint into a container and using a small paint brush. Don't use a Styrofoam cup for this – I now know that spray paint eats Styrofoam. I will not divulge the gritty details, just know that it involved me running around with a quickly disintegrating cup full of blue paint, that was disappearing from the bottom up and that my hands were blue for the rest of the day. I looked like I was auditioning for the Blue Man Group. Hilarious? Yes. But, dears, just trust me on this. No Styrofoam. I tell you, some days I think my life should be a sitcom. At the very least, I'm learning so much from these adventures!
ANYWAY..
Once the touch-up paint was completely dry, I turned the ring over, silver leaf side up, and ran a thin bead of glue around the top edge. I applied the mirror, turned it over for cleaning up of excess glue,  and placed a weighted object on top to ensure the glue would adhere. I let it sit to dry.
Once the glue was dry, I turned the mirror face up and cleaned where necessary. Turning the mirror backside up again, I prepped the back for the command damage free hanger, and applied the hanger to the back of each mirror and to the wall as directed on the package. I truly love the Command Damage-Free products for a project like this!
The mirrors add just a touch of whimsy, and I really love the addition of the silver inlay – it adds just a teeny bit of shine, taking them from ordinary to a little bit stupendous!
I'm really excited about how this redecorating project is going. I hope you'll follow along to see the final reveal.
If you like what you see here, let me know – drop me a comment – and don't forget to check out last weeks
Monday Madness
!